Archive For The "Events" Category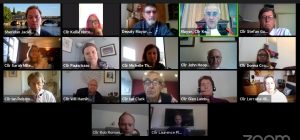 Mayor Making Corvid-19 style
At the Annual Meeting of the Henley Town Council this morning, Cllr KenArlett and Cllr Dave Eggleton were both re-elected to serve a second year as Mayor and Deputy Mayor of the Town Council.
This very unusual occurrence was proposed because of the exceptional circumstances created by the ...
In a moving service today the Photinia Red Robin tree in Northfield End, with its symbolic red leaf new growth, was dedicated to those who died in the First World War that ended 100 years ago. Thanks to the local residents supported by Henley Town Council.

Letter to the Henley Standard
As Thomas Octavius notes in his diary on 19 Oct 2018,HRG hosted an open meeting for residents to discuss what we'd like to see in the future for Henley. We wanted to hear as many different residents give their points of view to help us understand what residents like ...