Archive For April 29, 2019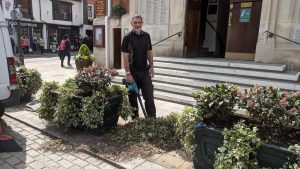 Monday morning in the life of Councillor Eggleton
So what is Dave Eggleton doing this morning?
Just gardening, clearing up the planted tubs in front of the Town Hall. Kellie's there too.
Is that his job?
No he does it voluntarily, between his own paid work.
And what happens when an elderly gentleman takes a fall on the pavement across the road?
Dave ...